Technology
E-commerce websites – Latest trend for shopping
E-commerce websites – Latest trend for shopping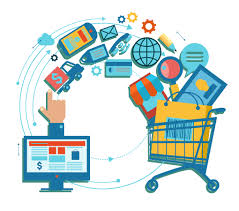 With the recent advancement in technology and fast growing world, people are getting busier day by day. Now days they prefer to buy products from virtual store rather than go to the any physical store.
E-commerce refers to the business done through an electronic media mainly through internet.  It is just the integration of web and telecommunication for the purpose of purchase. E-commerce came in to being with the dot com boom in the last decade. Presently e-commerce has fixed its strong position in the society reflecting every nook and corner. Many companies are adapting different marketing technologies in order to excel in business. E-commerce is one among them and in fact can be considered as the most successful strategy adopted in the business world. You can hardly find a person without a computer and internet connection now days. The need of computers and internet is very high and it has almost reached the position where it is not possible to move forward without these things. As a result the life became very busy enabling everyone to work from where ever they wish. Now people even like to spend their past time in front of internet. Taking this as an advantage, many companies are up with their electronic version of business. This is done either by creating their company website which is free for every internet user to surf through, by sending emails to all those potential customers for a particular business, by posting various ads in many social networking websites that are used by million every time, and also by the use of various instant messengers. This on other hand has widely opened the scope of every business marketed through internet because of the chance to get noticed by millions of users from around the globe.
E-commerce is divided into three types but usually two ways are common- business to business e commerce and business to consumers' e commerce. Business to business e-commerce is usually limited to few number of people especially who are dealing with same business or are in partnership with such kind of sales. Business to consumer business is the most common always reaching to all the potential buyers. This can be business partners and also common man. People are finding it easy to shop online rather than going to a retail store. This will definitely help in saving time and also money. Many online businesses are offering various discounts to customers in order to withstand in the highly competitive environments. Free shipping of products is the most common offer you might have come across while shopping online. There are many companies providing space for creating a website thereby leading the role of e commerce hosting. Many software's are needed to run the online business successfully especially in order to perform secure payment without causing any leakage to sensitive information. There are many e commerce solutions which are already bought by various developers include secure encryption, Zen cart features to help the customer in shopping comfortably and so on. This field has already dominated the original retail sector.