Current Affairs
Technology
Hamas and al-Qassam Brigade's new strategy, increased number of its subscribers on social media by millions
Hamas fighters attacked southern Israel on October 7. Hamas' media strategy has also changed after the surprise attack.
Hamas' media operations have played a key role in its rule over the Gaza Strip since 2007.
He has often used traditional media to spread his message, but the use of the messaging app Telegram has changed his media strategy.
Palestinian parliamentary elections
The 2006 Palestinian parliamentary elections led to a major split between the Palestinian Authority (PA) in the West Bank and Hamas in the Gaza Strip, as Hamas won more seats than the Palestinian Authority's main party, Fatah.
The rift between the rulers in the Palestinian territories helped Hamas dominate the media in Gaza. He relied on traditional media, especially Al-Aqsa TV, to spread his message to the people.
Al-Aqsa TV, established during the 2006 parliamentary elections, played an important role in strengthening the campaign of Hamas candidates and their agenda.
Palestinian journalists protests against Israeli attack on al-Aqsa TV.
Al-Aqsa channel has played an important role in broadcasting Hamas' pro-Islam messages. The channel regularly broadcasts propaganda from Hamas and its armed wing, the Azdin al-Qassam Brigades.
Al-Aqsa TV showed Hamas' ability to lead Palestinians in the movement against Israel as an alternative to West Bank leaders.
Despite the Israeli bombing of its headquarters during fighting in 2008, 2014, 2018 and 2021, Al-Aqsa TV often resumed broadcasting using mobile facilities and alternative locations.
Al-Aqsa vs Al Jazeera
Al-Aqsa TV regularly aired footage of demonstrations along the Gaza-Israel border during 2018-2019.
The broadcasts also featured speeches by prominent Hamas figures such as Gaza-based leader Yahya Sanwar. This movement is also known as the 'Great March of Return'.
However, Qatar-funded Al Jazeera TV is the most-watched channel in the Palestinian territories. According to a 2022 study by the Palestinian Center for Policy and Survey Research, Al-Aqsa TV comes second.
The online media network has also been instrumental in delivering Hamas messages to Gaza and the wider Palestinian community. These include the Palestinian Information Center established in 1997 and the oldest Hamas-affiliated outlet.
The group also runs Safa and Shahab news agencies. The two organizations regularly broadcast Hamas statements.
Palestine is the most widely read daily in Gaza. The content of this newspaper propagates Hamas messages against Israel.
There are also English versions of the official websites of Hamas and al-Qassam Brigades. These websites are the main means of conveying the statements of Hamas and its armed wing to the public, but these two websites cannot be seen outside Gaza in countries like Britain and Egypt.
Although some Hamas-affiliated media publish in English and other languages, the content on them is mainly in Arabic.
Reaching out to social media
In 2011, the power of social media emerged in the Arab Spring protest movements. Hamas and its associated media have taken hold of major platforms. Hamas used its media to promote its agenda. They are not only used in conflicts with Israel but also focus on the administrative measures taken by Hamas in Gaza.
The increasing use of social media has helped to develop a variety of media production capabilities in Hamas. This includes propaganda videos made during the training of its fighters, which are intended to send a message to the 'enemy'.
Hamas has also used social media to broadcast videos and songs in Hebrew. In 2017, Hamas published an animated music video in Hebrew on YouTube. Its title was 'Zionists, you will be destroyed in Gaza'. In this video, the Israeli army was threatened with violence.
But the video was later removed. In recent years, almost all of Hamas' official accounts and some of its media-linked accounts have been removed from social media — Facebook, X (former Twitter) and Instagram.
The measures came amid reports that Israel is in talks with Meta to remove Hamas-linked accounts.
The decline in Hamas' social media presence has resulted in their new strategy, in which Hamas is seen turning to another platform 'Telegram'.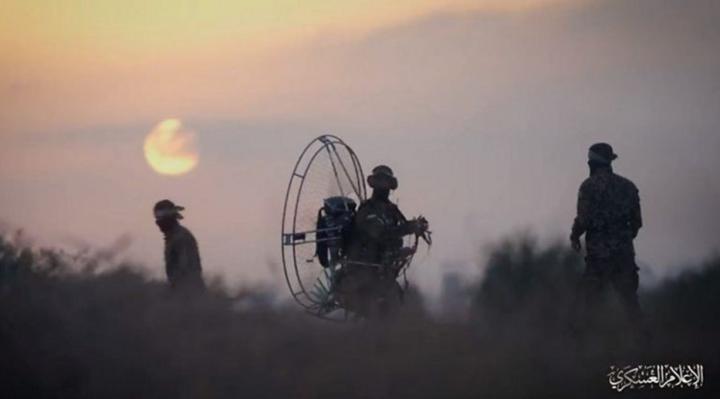 Al-Qassam Brigade released videos of the attack on Telegram on October 7
Hamas and al-Qassam Brigades on Telegram
The official Telegram channels of Hamas and al-Qassam Brigades were created in 2015. They were created after a week of deadly clashes between Gaza-based groups and Israel. Since then, these channels have been used to broadcast promotional videos and messages.
The number of subscribers of Hamas and al-Qassam Brigades channels has increased rapidly since Hamas attacked southern Israel on October 7. According to Telegram Channel and its catalogue TG Stat, the number of subscribers has increased rapidly.
The Hamas Telegram channel had close to 41,000 subscribers as of October 6. That number had risen to 120,000 by October 11.
On the other hand, the number of subscribers of al-Qassam Brigade's Telegram channel increased from 200,000 before the war to about 580,000 by October 11. Al-Qassam Brigade spokesman Abu Ubaida's Telegram channel also claimed it had 395,000 subscribers.
Al-Qassam Brigade's Telegram channel has surpassed the channels of influential armed groups in the West Bank in popularity. Such as the Nablus-based Lines Deans Telegram channel, which has about 253,000 subscribers.
The growing scope of Hamas' Telegram channels appears to be the result of an organized media strategy. As Hamas fighters launched their offensive, the Al-Qassam Brigades began sharing more high-quality videos on their Telegram channel than they had published in previous years.
Some of these videos appear to have been made with drone or GoPro cameras to document events as they unfold.
The videos were widely shared by Hamas media. They were not only broadcast on al-Aqsa TV's live broadcast but were also being shared on social media.
The use of Hamas telegrams is an attempt to counter the notion of Israel's invincibility.