17 Gorgeous Places of Pakistan
Pakistan is naturally an extraordinary beautiful country. The tourist from the world always feel charm to visit the ancient and gorgeous places of Pakistan. Some are discuss below
THARPARKER
It is one of the five major deserts of the country and is the only fertile desert in the world.
It is located in the region of Sindh
Moen Jo Daro
Another master piece place located in Sindh called as the ancient Moen jo daro. This 4500 old city is an archeological site which was built by the Indus valey civilization.
TAXILA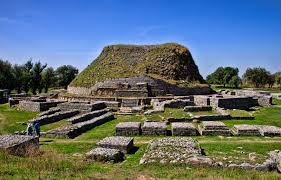 The ruins of this archeological site date back to the time of the "Achaemenid" or "Persian Empire" in sixth century B.C.
It is located near Rawalpindi in the province of Punjab.
HINGOL NATIONAL PARK:
It is at a distance of 190 km from Karachi. This park includes the "Estuary" of the Hingol River which supports the diversity of Birds and fishes.
It is located in the province of Balochistan, Makran coast.
KATAS RAJ
A Hindu Temple complex dedicated to Shiva which according to legends has existed since the days of Mahabharata and Pandava.
It is located in Katas villafe, found in Chakwal district of Punjab province.
DERAWAR FORT
Derawar fort, which is located in the Bahalwalpur region of province Punjab was built by a Hindu Rajput. The fort is a large square fortress which is visible for many miles in the cholistan desert.
CHOLISTAN
This vast and beautiful desert is about 30 km from Bahawalpur and covers an area of 26300 square kilometer. It is located in Punjab province.
KHEWRA SALT MINE
This is the world's second largest and Pakistan's largest and oldest salt mine. It is located in Khewra in the north of Pind Dadan Khan.
KEENJHAR LAKE
It's the second largest freshwater lake in Pakistan which provides a favourable habitat for winter migratory birds.
It is located in Thatta district, in province of Sindh
CHAUKANDI
This early Islamic cemetery has elaborate sandstone carvings and is known as the family graveyard of the Jokhio tribe.
It is located at a distance of 29 km east of Karachi
RANIKOT FORT
This historical fort is also known as the great wall of Sindh and is believed to be the world's largest fort.
It is located in Jamshoro district near Sann in Sindh province
PISHIN VALLEY
It is Fifty km from quetta. This place is renowned for its greenery, fruits orchards and crop production.
It is located in Pishin district in Balochistan.
ASTOLA ISLAND
Astola island is a small uninhabited Pakistani island in the Arabian sea near the fishing port of Pasni.
It is located in Balochistan
GAWADAR
The Arabic influence upon Gawadar is a strong as a consequence of the Omani rule. They have an Arab dance and Music called Liva.
It is located in the province of Balochistan.
BOLAN PASS
This mountain pass  is about 120 kilometres from the Afghanistan border. It connects Sibbi with quetta both by road andrailway. It is located in Toba Kakar range in Balochistan.
KIRTHAR MOUNTAINS
These mountains with steep arches extend all the way from central balochistan to the west of Karachi.
Its location is in Balochistan and Sindh
HANNA LAKE
The reservoir was constructed during the British colonial era in 1894 and is one of the main attractions in the city.
It is located near Quetta city in Balochistan